The fashionable position to take on fashion, these days, is that trends are dead and that individual style and self-expression are what matters. The old certainties – skirts are hereby decreed knee length for six months, only camel coats are to be worn for the foreseeable – belong to a different era. To a bygone world in which political insiders gave ballpark-accurate election predictions and the Oscar statuette didn't get handed to the wrong film in front of a global TV audience. Now the world is sick of experts, and that goes for fashion too.
Except in September. Because right now, the world needs fashion. The September issues of magazines, heavy as hymn books and immortalised by a glossy documentary, are testament to the power fashion has at this moment. Women who rely on their own style to steer their wardrobes the rest of the year are, at this point in the calendar as at no other, keen to be told which coat to buy and when to start wearing black tights. The system in which one consistent look could preside over a whole autumn and winter has been blown apart by an insatiable appetite for newness that demands we hit wardrobe-refresh every three weeks. September's back-to-school moment, when you pack away the sundresses and straw baskets and revamp your look, is the one fixed red-letter-day that remains.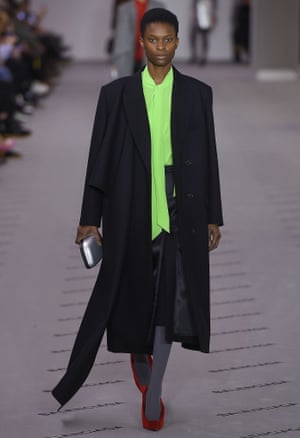 Of course this is all about emotion, really, not clothes. Summer is fading, holidays are over, and after the second-gear lull of August in the office, the whip is being cracked. The best medicine for end-of-summer melancholy is to ring the changes with a new look that breaks us out of the doldrums. The shine of a new pair of boots, the springy plush of a bright new sweater, the swagger of a crisply tailored jacket. All of this is about putting an upbeat spin on the autumnal business of getting stuck into the gruelling next few months.
And in our age of optics, September's new look matters more than ever. Clothes are the channel on which much of modern life is broadcast. From the politics of the tie (Trump's long red one versus the no-tie axis that runs from Barack Obama to Sadiq Khan) to the visual semantics of pop (Taylor Swift's comeback video is punctuated with outfits that are just as deliberately controversial as the lyrics), we are all tuned in to the business of decoding what we wear.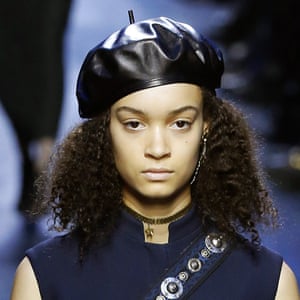 Fashion isn't just about a look, it's about a message. Right now, that message is about clothes that are more high-energy, more outward-facing, than last year's cosy, Netflix-and-chill fashion. In 2016, it was de rigueur to wear a tracksuit on the fashion front row, and pyjamas to a cocktail party. If you want a quick snapshot of the season's new mood and how it has updated fashion, take a look at the Versace catwalk. All the recognisable hallmarks of Insta-friendly fashion are there, but the aesthetic is more serious-minded than playful, more ambitious than laid back. Gigi Hadid's abs are on display, but under a cropped double-breasted jacket rather than a sporty bra-top. Kendall Jenner has crazy yellow sunglasses on, but this time with a pencil skirt and a clutch bag.
The new look is not exactly power dressing. Let's call it empower dressing, instead. Elements of it – berets at Christian Dior, black leather at Calvin Klein, exaggerated shoulders at Balenciaga, bright red absolutely everywhere – signal a mood of direct action that is unusual in women's fashion. But while power dressing stands for individualistic, single-minded ambition; empower dressing is high-energy without the self-obsession blinkers. At Versace, tailored suits came emblazoned with sisterhood slogans: Unity, Loyalty, Power, Love.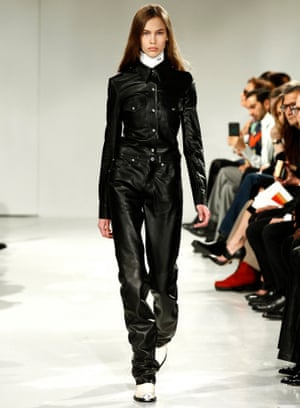 This is not a season of po-faced get-ahead tailoring. Far from it. The most-viewed catwalk show on vogue.com for the season is Gucci. The label's aesthetic of technicolour, graffiti-scrawled, butterfly-decorated eclecticism is scarcely office appropriate. Prada, once the spiritual home of the A-line knee-length skirt and the useful bag, is all embroidered rainbow-hued knitwear and cheekily fluttering feathers. The latest Chanel tweed suits come accessorised with boots or headbands in escapist, space-age silver. These are not work clothes, but neither are they designed for staying home with a takeaway. Last year's athleisure fashion borrowed visuals from the yoga studio and the running track – fine jersey, sleek leggings – but 2017 has downed a protein shake and brought a high-intensity attitude to what we wear, instead.
For proof that this is a season of clothes for putting down the remote, getting out of your comfort zone and into the big wide world, consider the transparent raincoat. Both Raf Simons at Calvin Klein and Miuccia Prada at Miu Miu made this a key piece. Consider, also, what has happened to footwear. Those fur-lined loafers, which were essentially unfit for venturing outdoors, have ceded alpha-shoe status to Saint Laurent's bedazzled silver boots, which are most definitely fashion for going out. Not out to work, but out-out. Trends may well be dead. But every time September rolls around, fashion is alive and kicking, in brand new boots.